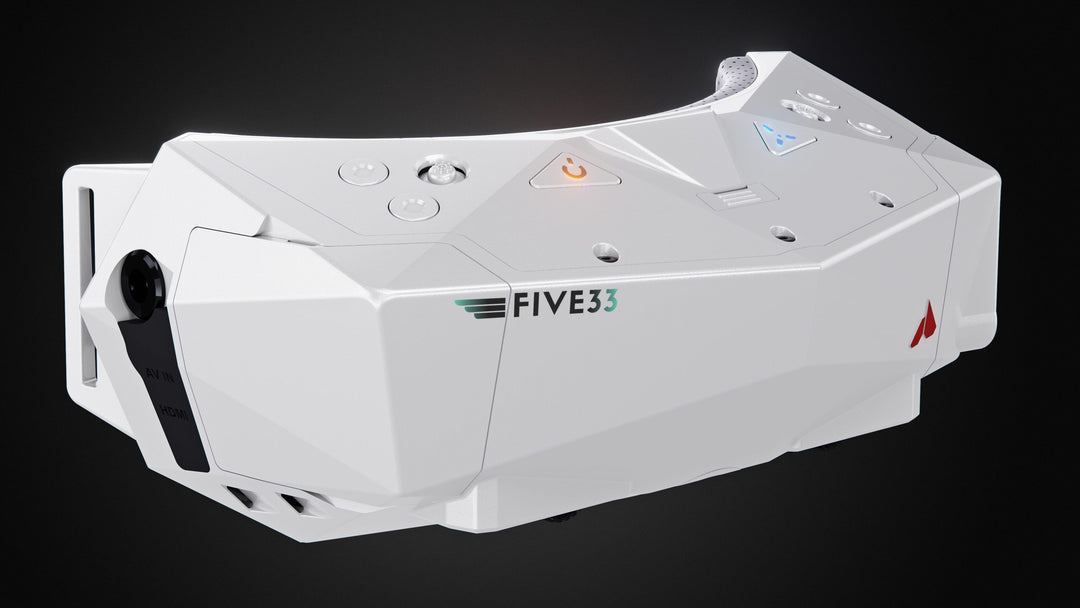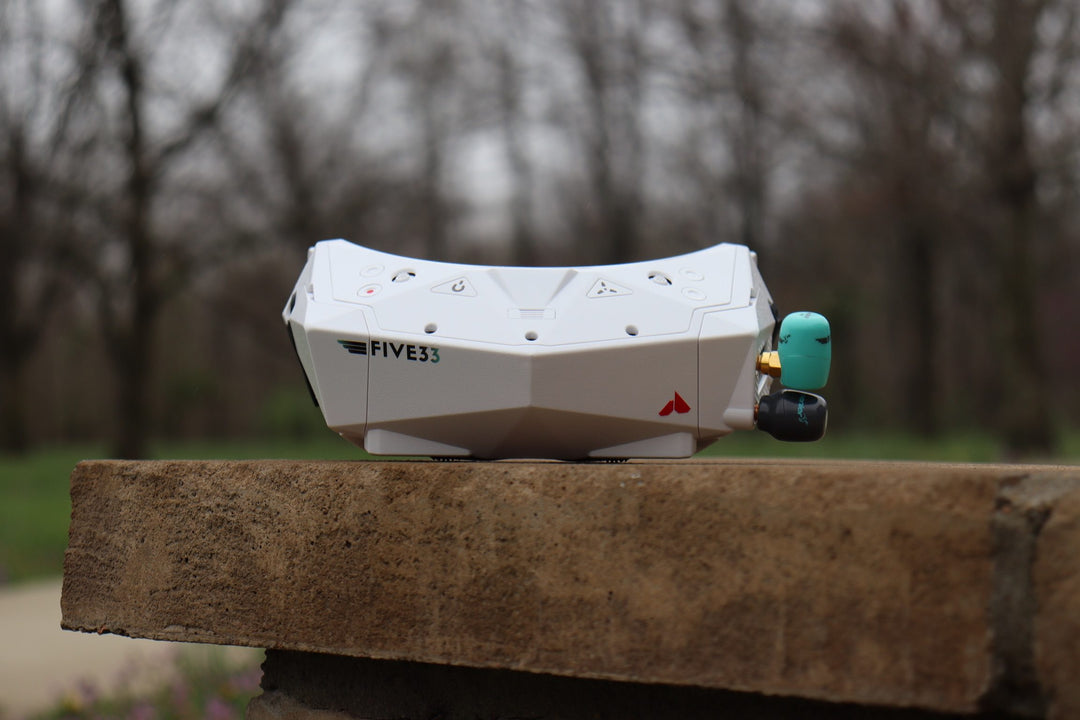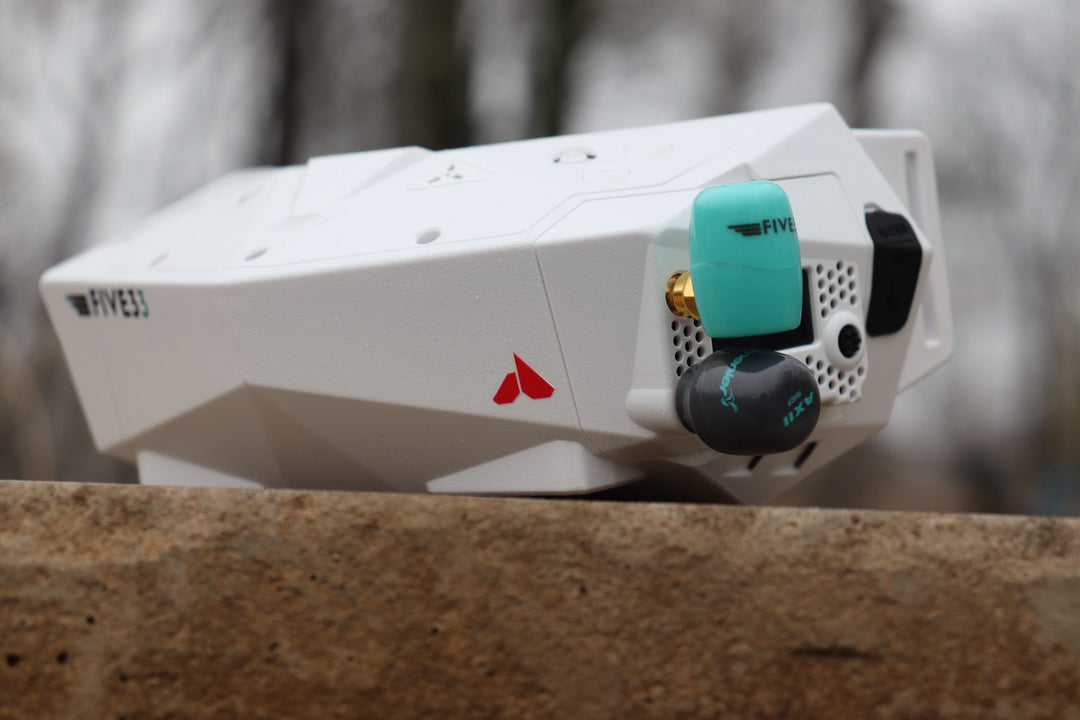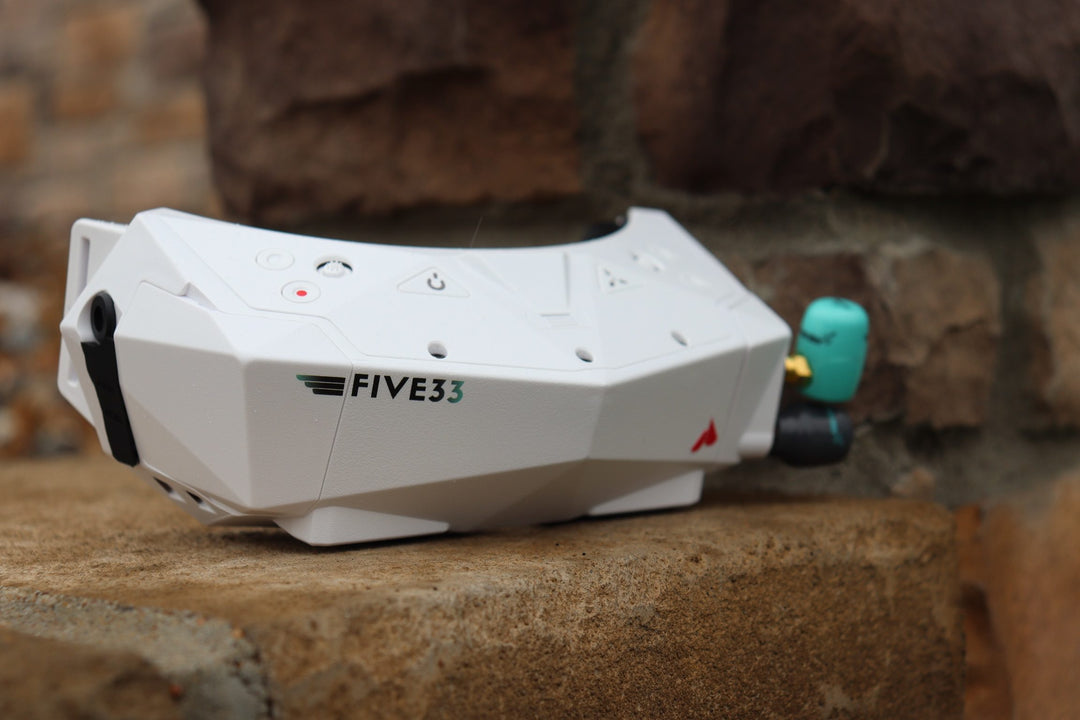 Orqa FPV.One Race
---
In stock, ready to ship

Inventory on the way
EVOLVED. DIGITAL-READY.
New Orqa headset made in collaboration with FlyFive33 arrives fully optimized to bring you the ideal racing performance!

Orqa and FlyFive33 are two companies driven by people passionate about FPV that want to bring amazing new products and support the community as a whole.
The new racing goggles mark only the first step in potentially long and successful cooperation, so the best is yet to come!
FPV.Race and FPV. Pilot Comparison
FPV. Pilot : Price = 570 dollars USD, 37 degree FOV, Head tracking unit, Gunmetal grey color way
FPV.Race : Price = 485 dollars USD, 33 degree Race FOV, No head tracking unit, polar white color way
All other features remain identical between the goggles, including their digital readiness!
https://youtu.be/bEb1np8qTy0
https://www.youtube.com/embed/RohOKp7-Cwo
All features as its "bigger" brother - FPV.One Pilot

The most powerful set of FPV goggles available. Computing power is the same as in FPV.One Pilot.



Custom connector for future expansions
The "Portal" on top of the goggles is the interface for the upcoming Orqa HD Digital system. It can also be used as a wired video output for other expansions like cameras, special antennas etc.



Optimized for the fastest lap.
FPV.One Race FlyFive33 goggles are true performance goggles. Focus on your race with a super crisp and sharp image. The 33º FOV allows us to use smaller and cheaper screens, and pass the savings to the customers.



Support for standard analog and digital video inputs
Choose whether your standard analog VRx, or go digital using a micro HDMI video port and the Orqa portal.
Best DVR for best racing footage
Record your FPV footage in high definition directly from the goggles with built-in HD DVR and forget about lost frames. 
FPV headset Designed and Manufactured in Europe
Every unit is hand-assembled and QC'd by our team of engineers and technicians. Orqa is proudly designed and made in Croatia, Europe.
FPV.Connect
Connect the mobile app to your goggles and download flight videos, update headset firmware and much more…








Testimonials




Evan
The Five33xOrqa FPV.Race is a tried and true performance goggle. It is not made for a large pleasant viewing experience, but instead provides the amenities needed to perform when it counts. Racing, freestyle, it doesn't matter, if you are able to see the entire image at once without having to move or refocus your eyes I truly believe you have the ability to perform better. Additionally, it's imperative for this image to be crisp. When scaling down an image on a larger fov goggle you lose a significant amount of pixel density, the only way to fix this is to bring a full resolution race field of view goggle to market. Which is what we did. Combine that with the 485 dollar price point and you will not find a better bang for your buck goggle on the market.
Charles
Here are some of my key takeaways since winning Sports Class in 2021. Consistency is good, confidence wins races, and complacency is bad. These three points pair perfectly with this incredible built goggle. Flying with the Orqa FPV.Race has shown me the faster you get the less you actually need to see. A smaller FOV allows me to consistently point my camera to references on a track without wandering eyes. The quality optics and the density of the screen produce a confidence inspiring image that even helps with ghost branches. As I continue to clean up my flying as I adjust to these goggles I hope to keep pushing myself further and faster.
Mondo
Since it was first introduced in the FPV.One Goggles I've always set my goggles to Race mode. Via back to back comparisons I quickly found I was faster and more confident when I had the whole image in focus and my eyes could quickly scan the image for any obstacles. Saving money by getting rid of the portion of the screen I wasn't using was a no brainer but I didn't anticipate how much crisper the same FOV image would be when it was using the whole display! 


Technical specifications
 Screen resolution 1024 x 768 pixels
 Power supply 6-25VDC (2-6S Li-ion Battery)
 Power consumption 2.6W, typical
 HDMI video input: micro HDMI
 Battery connector 2.1 x 5.5mm barrel connector
 Integrated DVR 1280x960, 50/60fps, H.264, mp4
 Standard receiver bay: 5V, High power
 Secondary bay for additional modules: 5V, SDIO, UART
 Weight (without battery) 256g
 Dimensions 177 x 107 x 72 mm