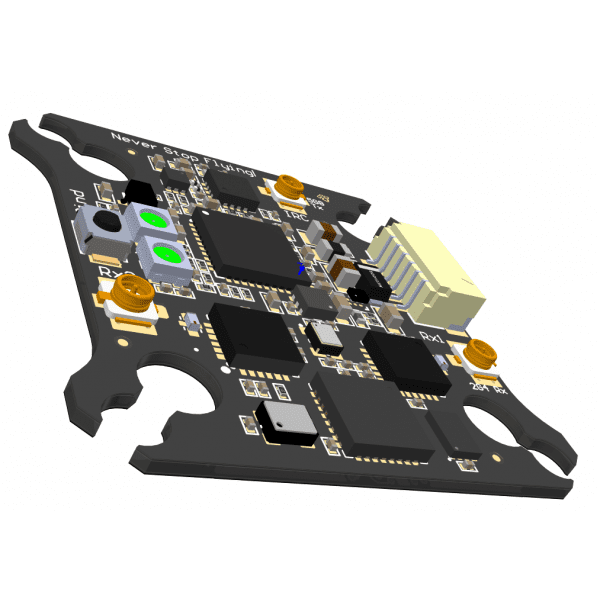 IMMERSION RC TRAMP/GHOST HYBRID V2 (DUO or UNO) 5.8GHZ VTX/2.4GHZ RX
---
Low stock - 7 items left

Inventory on the way
There is nothing like the experience of flying an FPV drone, but building these marvelous machines is more complex than it needs to be. With Tramp, we set out to raise the bar on video transmitter technology. With Ghost, we set out to redefine the norms in receivers for R/C control. And now we have fused these two together, in the groundbreaking Ghost Hybrid. Designed by pilots, built by pilots, supported by pilots.
Check out all our IRC Ghost Products and the rest of our ImmersionRC Products!
FEATURES:
- 20x20, 25.5x25.5 mounting

- single sided, with included gummies, for extremely low profile mounting

- Two full receiver channels (not just dual antenna)

- Only 2.2g, perfect for the popular sub-250g class

- Extreme Range AND Low Latency

- 500Hz R/C Link Updates (HW is 1kHz ready)

- 2.4GHz Lora OR FLRC control modes, for the best performance in any environment

- Integrated 5.8GHz 25mW - 600mW Video Transmitter

- All 48 standard channels

- Thermally Regulated, Factory Calibrated
INTELLIGENT VTX CONTROL
Intelligent, and direct control of the video transmitter from the Ghost ecosystem. Use either the OLED menus on the Ghost Transmitter module or the responsive OpenTx tools menu. Tx remains silent on power-up, shuts down immediately in an (unlikely) failsafe.
LOCKING CONNECTORS
Innovative locking connectors deliver the advantages of the light-weight u.FL/MHF standard, with the security required for world-class racing, or long-range flying. Simply plug the connector onto the board, and slide the locking cap to secure.
THERMAL REGULATION + CALIBRATION
As with all tramp products, the Hybrid includes automatic thermal regulations, protecting the video transmitter against potentially damaging overheating while sitting on the starting pad. The on-board Tramp is factory calibrated, for precise power delivery during critical race events.
qTee ANTENNAS
qTee, a.k.a 'Cutie' antennas are center-fed dipoles, with integral balun to ensure no cable radiation, and without unexpected nulls in the radiation pattern. Tip to Tip length of just 60mm, easy to install in anything from a Whoop™ to an X-Class quad
SPECIFICATIONS:


Downlink RF Power: +13dBm


Sensitivity: -117dBm in Long Range mode


Serial Formats: GHST, SBus, SBus-Fast (200k), SRXL-2 (400k), SBus Inverted


Firmware: Over-the-air (OTA) upgradeable (Rx and VTx)


Power Supply: 5V, with Over Voltage Protection


VTX Control: Automatic, via Ghost


Antenna Connectors: Standard U.FL with Locking Connectors


MANUAL:
FIRMWARE/ DOWNLOADS:
PACKAGE INCLUDES:


1x Immersion RC Tramp/Ghost Hybrid V2 UNO 5.8GHz vTx/2.4GHz Rx


2x qTee Antenna


1x Silicone Cables


*HAM license is required for operation on HAM channels, and HAM power levels! The VTX ships with only legal channels enabled, please consult the manual on unlocking procedure.
Listed with ExportYourStore.com