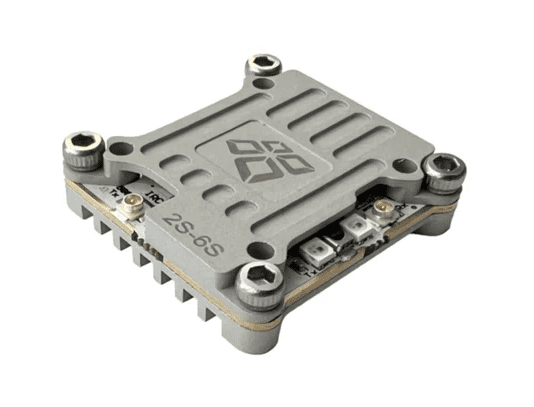 ImmersionRC Ghost Ultimate Hybrid
---
In stock, ready to ship

Inventory on the way
In the FPV wold, we are conditioned… conditioned to cringe when leaving LOS, conditioned to fear concrete structures… until now.
The Ultimate Hybrid takes the innovative Ghost Hybrid concept to a new level, with the traditional long range/low latency Ghost uplink, and a high power Tramp video transmitter, packaged in a beautiful anodized heatsink.
Designed by pilots, built by pilots, supported by pilots.
Check out all our IRC Ghost Products and the rest of our ImmersionRC Products!
FEATURES:


Standard mounting pattern for digital vTx's (Caddx Vista™)


2s-6s HV operation, no need for a 5V supply


5.8GHz 10-1500mW Video Transmitter *


Onboard Ghost Uno Receiver


Only 10.3g with heatsink, 3.1g without


Long range AND low latency


500Hz updates *


2.4GHz LoRa and FLRC Control


All 37 Standard Channels


Thermally regulated, Factory calibrated


* 1kHz ready for when OpenTx can supply quality data at this rate

* Available vTx channels and power may vary from region to region to comply with local regulations
INTELLIGENT VTX CONTROL
Intelligent, and direct control of the video transmitter from the Ghost ecosystem. Use either the OLED menus on the Ghost Transmitter module, or the responsive OpenTx tools menu.
Tx remains silent on power-up, shuts down immediately in an (unlikely) failsafe.
MANUAL:
PACKAGE INCLUDES:


1x qTee Antenna


1x U.FL to SMA


Wire Harness


ATTN.
VTX is set to 25mW by default! Power levels above 25mW require a HAM license or have to be approved by local authorities! Please ensure you're flying legal frequencies and use our prepared Betaflight VTX tables according to your region.
Listed with ExportYourStore.com