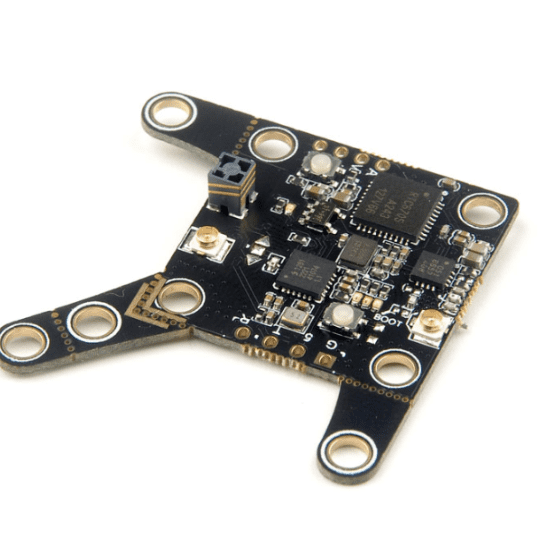 Happymodel ELRS Fyujon V2 AIO Board - 5.8GHz OPENVTX + 2.4GHz ERLS RX
---
In stock, ready to ship

Inventory on the way
ELRS Fyujon is a very simple and easy-to-use 2-in-1 module that integrates 5.8GHz video transmission and 2.4GHz ELRS receiver. They can be integrated into a board for use, or they can be split into independent VTX modules and receiver modules to be used separately. They are all open source solutions that are currently very popular with FPV pilots. Compatible with 20mmx20mm, 30mmx30mm stack mounted way and 25.5mmx25.5mm whoop mounted way. Due to the ultra light weight (only2.1gram), it would be a better choice for small toothpick quad or analog version Cinewhoop.
VIDEO: HappyModel Fyujon ExpressLRS RX + 300mw VTX in a tiny package
Features


Great for Toothpick builds or Cinewhoops


Lightweight 2-in-1 AIO Board


ExpressLRS 2.4GHz Receiver


5.8GHz OPENVTX


Specifications


ELRS Firmware target: HappyModel EP 2400 RX


ESP8285 MCUSX1280/1281IMLTRT RF Module


Antenna: Onboard SMD ceramic antenna


Frequency Range: 2400 MHz to 2500 MHz


Maximum receive refresh rate: 500Hz


Minimum receiver refresh rate: 25Hz


Antenna Peak gain: 3.7Db


SMD Ceramic antenna


Working Voltage: 5v


Type: ISM




Transmitting Power: 0/RCE/25mw/100mw/300mw


Current (5v): <650ma (300mw)


Frequency: 5.8G 48CH


Power supply: DC 5V


SmartAudio ready




Notes: The VTX needs to work with Smartaudio or IRC Tramp, it can't work without Smartaudio or IRC TRAMP support.


Includes


1x Happymodel ELRS Fyujon V2 AIO Board - 5.8GHz OPENVTX + 2.4GHz ERLS RX


1x Antenna


Listed with ExportYourStore.com