BetaFPV TinyTrainer F405 4S AIO Brushless Flight Controller 20A(BLHeli_32) V4 DOWNWARD FACING USB PORT
---
In stock, ready to ship

Inventory on the way
THIS AIO HAS A DOWNWARD FACING USB PORT
TinyTrainer Betaflight 4.3 Diff : https://docs.google.com/document/d/1CETRUqg766s0d-tmpkefgksTyOGTdz5DrLZHSONIaEM/edit?usp=sharing
https://youtu.be/1di8CB5VpH8
The new ultralight Toothpick F405 2-4S AIO 20A FC is finally released! Compared with the V3 version, the new V4 board updates the F411 chip to F405. It can handle 20A of continuous current and up to 4S! Strong performance lets you break through the limits of your quad and explore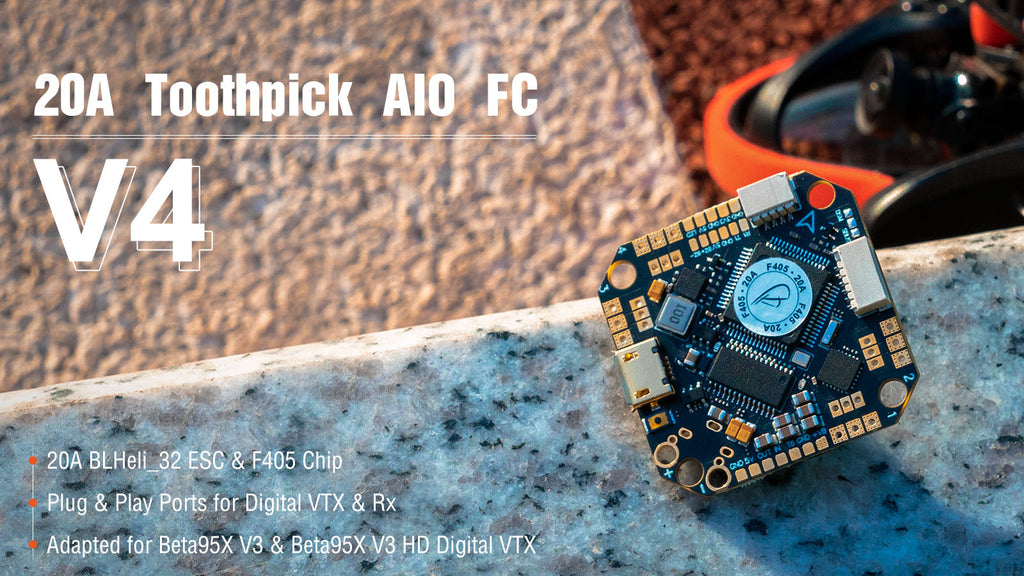 FEATURES:
Updated the F411 chip to F405, this new 20A AIO board handles 

a continuous current of 20A and a burst current of 22A, bringing

 pilots a more stable flight.
BETAFPV 12A/20A AIO flight controller reserves the same UART ports layout, UART3 for Rx, UART4 for DJI, UART6 for SmartAudio and the Spare UART1, more convenient for pilots to solder.
Come with 2 integrated Plug & Play Ports for both digital VTX and Rx, less solder work needed, easy to install.
Come with a 26mm x 26mm whoop mounting pattern, this board can be added to both the toothpick drone and the cinematic whoop quadcopter like Beta95X V3 and Beta95X V3 HD Digital VTX.
COMPARISON OF TOOTHPICK 12A AIO FC, TOOTHPICK 20A AIO FC AND TOOTHPICK F405 20A AIO FC V4

SPECIFICATIONS OF FC:
Size: 26mm x 26mm, whoop mounting pattern
Firmware version: Batefight-BETAFPV405-4.2.X
OSD: Built-in BetaFlight OSD (STM32 controls OSD chip over SPI in DMA mode)
Receiver: Support Frsky XM/XM+ Receiver/ Futaba Receiver/ Flysky Receiver/ TBS Crossfire Receiver/DSMX Receiver
Connecter: XT30, it also can be changed to XT60 if pilots needs.
SPECIFICATIONS OF ESC:
Support PWM, Oneshot125, Oneshot42, Multishot, Dshot150, Dshot300,Dshot600
Input voltage: 2S-4S Lipo
PACKAGE INCLUDES:
1 * Toothpick F405 20A AIO FC V4
4 * Anti-vibration rubber dampers
1 * 6-Pin Connector for Digital VTX
1 * 4-Pin Connector for Rx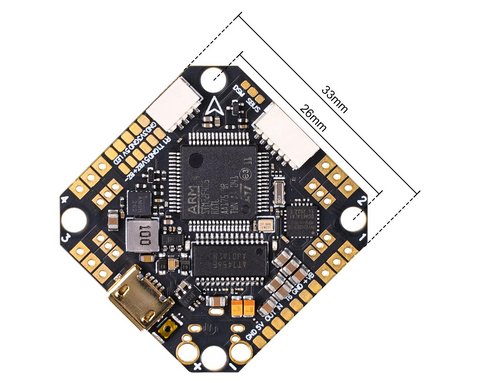 DIAGRAM FOR TOOTHPICK F405 20A AIO FC V4
STATUS LED
There are 2 LEDs on the bottom of the board to indicate the status, including the Power LED ( Red), FC LED(Blue).
| | | |
| --- | --- | --- |
| LED | Status | Description |
| Power LED ( Red) | Solid | Power on |
| FC LED ( Blue ) | Solid | Motor Armed |
HOW TO CONNECT THE EXTERNAL RX TO TOOTHPICK F405 20A AIO FC V4
The new AIO board has integrated the Plug & Play Port for the external Rx, and there will be a 4-Pin connector for Rx in the package. Thus, we highly recommend pilots to use pin-connect to save the solder work. In addition, please notice that when you connect the different external Rx, the pads near the pin need to be soldered in a different way. Please solder it as the following diagram.